The Affordable Medicines Program (AMP) implemented as part of healthcare reform is an unparalleled initiative in Ukraine seeking to provide patients diagnosed with cardiovascular diseases, type 2 diabetes or bronchial asthma with medicines either free of charge or with a small co-payment.
The list of medicines available under the AMP includes 258 trade names, 64 of which are fully reimbursed.
As at April 26, 2019, Ukraine's National Health Service signed reimbursement contracts with 909 pharmacies, 6,255 pharmacies joined the AMP, while primary care physicians wrote more than a million e-prescriptions 60% of which were filled.
---

Devaluation of the national currency, higher drug prices as compared to the neighbouring countries, and the lack of prepayment and reimbursement schemes made the supply of essential medicines limited and their cost unaffordable.  
Making quality medicines affordable to the Ukraine people has become a government priority as part of healthcare reform.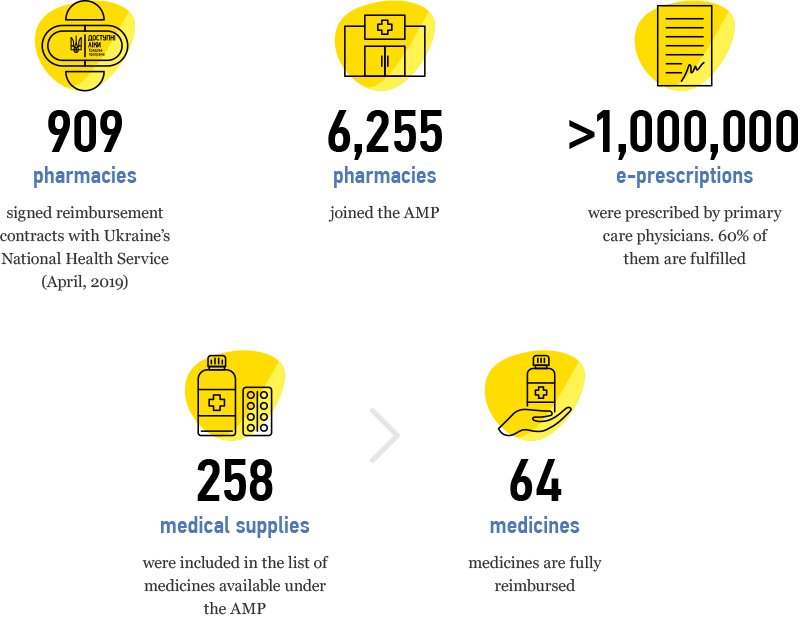 ---

To achieve this objective, the government sought RDO's assistance. 
After having done an in-depth analysis of the state of affairs and available resource base, we partnered with the Ministry of Health and developed a radically new mechanism to implement the initiative.  
---

The toughest and longest task was to find a compromise among all stakeholders, including Ukrainian and foreign pharmaceutical companies, pharmacies, distributors, projects, and branded and generic drug manufactures.

The RDO, in particular, undertook to establish and maintain a regular dialogue among stakeholders to develop a potent reimbursement model, as no matter how effective, it ought to have heeded all their interests.
Next it was necessary to speed up the legislative process, including drafting the required documents and making sure they were put to the vote in the Cabinet within the shortest possible timeframe.
The closing phase included external and internal communication. Having fully handed over the AMP to the Ministry of Healthcare, the RDO provided communication and information support services through press releases, topical leaflets, conferences and meetings to convey the AMP's importance not only to its stakeholders, but also to ordinary people.  
---

It took two months to implement the AMP. The results were not long in coming, as the average drug price dropped by 30%, and a third of Ukrainian pharmacies joined the initiative voluntarily. 
The two years of AMP's operation have already seen more than 36 million prescriptions written and more than 7,000 pharmacies involved. 
Patients diagnosed with cardiovascular diseases, type 2 diabetes or bronchial asthma with medicines can now receive 261 medicines, 59 of which are fully reimbursed.
In October 2018, the initiative was awarded the top assessment by the World Health Organization and gained world recognition. In the opinion of WHO experts, Ukraine's reimbursement scheme has been implemented successfully, and the AMP has become perhaps the only opportunity for patients to access essential medicines. 
---
Related links:
State Secretaries will Speed Up Implementation of the Trembita System 
A memorandum has been signed to make healthcare reform more understandable and access to healthcare services more convenient